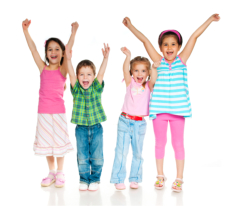 Guiding Children's Behavior
The goal at Peter Pan Child Care Centre is to help children develop a positive self-image. We hope to encourage children to be self directed and exhibit self-control. Young children due to their developmental age are not capable of understanding the ramifications of many of their behaviors therefore, they need to be encouraged to make good choices and to be prevented from harming themselves and others. This can best be accomplished through close supervision, gentle guidance and most importantly redirection.
The children are taught 3 Simple Rules:
You may not hurt yourself
You may not hurt others
You may not hurt toys, furniture or other objects.
There may be times when every attempt that has been made to redirect a child's behavior has been fruitless. As a last resort, the child is removed from the situation. He/she is asked to sit on any chair for a few minutes (maximum 5 minutes) away from the area that the behavior occurred. During this time a staff member explains the reason they have been asked to sit out, what it involves and the child determines when he/she is ready to re-enter the group play. Early Childhood Educators model problem solving steps with the child and discuss what options they have. Children are encouraged to verbalize their options and model appropriate behaviors.
At all times appropriate, acceptable behavior is reinforced. If unacceptable behavior persists, educators will contact the parents for a meeting to discuss the child.
Behaviors that cause a safety concern for the child, children or staff cannot continue beyond a reasonable time frame. If a child has a meltdown, the parent will be called to pick them up.
Inclusion
Children with special needs are welcome at Peter Pan Child Care Centre. Open communication with the family, ISSP team and inclusion Consultant are critical for inclusion to be a success. Children with Special needs who need support for inclusion are assessed on an individual basis. Consent from parents is required before a referral can be submitted to the Inclusion Consultant.