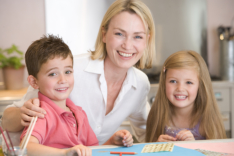 Mission Statement
Peter Pan Child Care Centre strives to provide excellent Early Childhood Education combined with the highest standard of quality care for the benefit of children, families and society.
Philosophy
It is our belief that with our warm, supportive atmosphere and carefully planned program, the child's developing sense of independence, self-concept and self-esteem are supported.
Individual strengths, needs and interests are critical in the development of our emergent curriculum. A key understanding of how children learn is the focus of the program. Through observation, discussions and a team effort, topics of interest for curriculum are developed based on the child's interest.
Hours of Operation
The Child Care Centre is open 12 months of the year from Monday to Friday. Hours of operation are from 7:00am-6:00pm (depending on the need). Children are required to be 18 months of age and programming is provided for children up to 7 years old.
Fee Schedule
Day Care Fees-9 Mackay Street, Nutritious lunch/snacks provided  256-8193
Day Care Fees-4 Gray Ave. Parent provide nutritious lunch/snacks  256-8593
FEE SCHEDULE AVAILABLE AT THE CENTER
Fax Number: 709-381-0284
Pre-School Hours of Operation at 7 Mackay St. & 4 Gray Ave.
Morning Group 9:00-12:00
Afternoon Group 1:00-4:00
Monday-Friday
Fee Schedule
See the operator for Fee Schedule
All fees are to be paid the first of the month or bi-weekly.
Children who use the pre-school can use the services of day care for an extra cost. This is for an hour early morning or an hour after pre-school